Herzegovina is the tourist destination of the future, according to the ratings of the respectable London-based financial magazine "Financial Times", and Čapljina stands out as the best investment destination in Southeast Europe.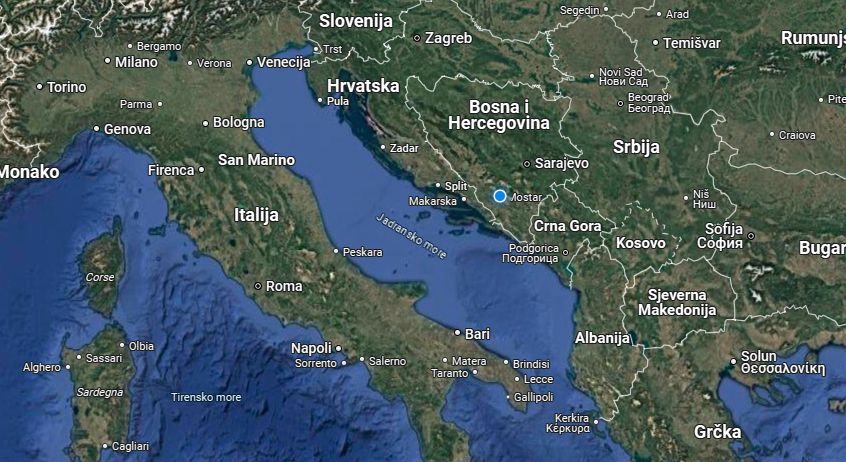 The Centre for Investments and Entrepreneurship Development Mostar (CIRP) recognized the opportunity for an excellent promotion of the Herzegovina region at the global level, prepared the application for the open call of the FDi magazine and provided all the necessary information. Investment experts and specialists analysed various criteria including economic potential, FDI performance, tourism attractiveness, cost effectiveness and friendly business environment.
On this basis, the specialized edition of the prestigious magazine Financial Times for the Promotion of Foreign Investments - "FDI Magazine", ranked the region of Herzegovina in the 6th place in the category "TOP 10 Tourist Destinations of the Future 2019/2020, according to the FDI strategy.
Thus, Herzegovina found place in the company of Australia, Costa Rica, Cyprus and others, and was specially rewarded for Cultural/HeritageTourism, with an emphasis on ethno villages - stone houses in traditional style, taverns, wine tasting, a shops equipped with handicrafts, souvenirs and traditional products like donuts , homemade honey, herbs or homemade liqueurs.
"Positioning on the prestigious list is a direct recommendation to potential investors that it is worth investing in Herzegovina as an attractive tourist destination," said president of CIRP Dijana Bošnjak.
Due to the natural beauty of Herzegovina, pleasant climate, abundance of sun and water, the development of all forms of tourism is emphasized, especially the adventurous one, since Herzegovina is at the heart of the Via Dinarica mega trail, home to Hutovo Blato - a unique sub-Mediterranean wetland, one of the richest wetland bird reserves in the Europe and the Blidinje Nature Park.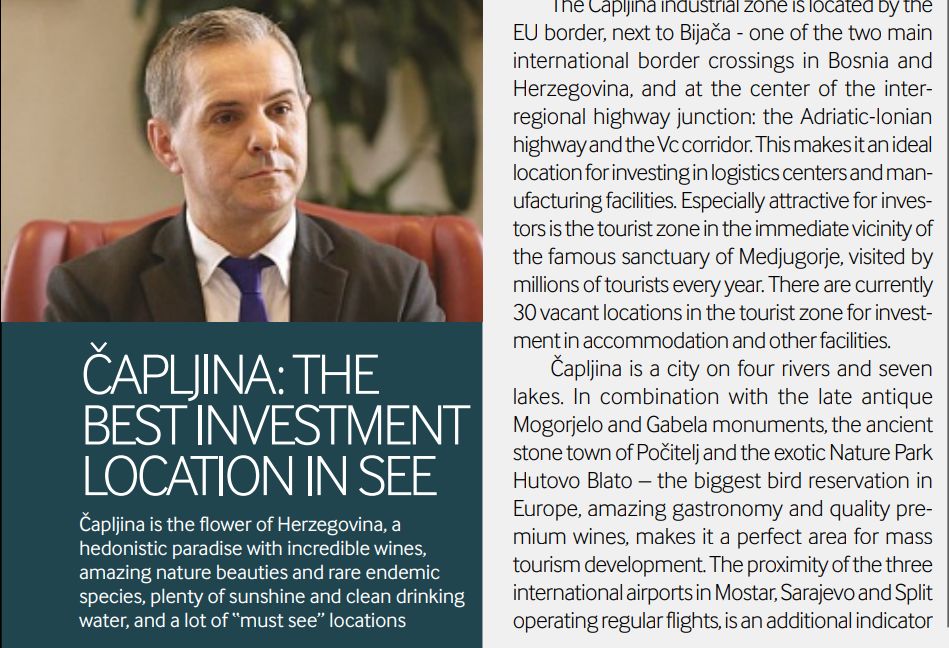 The city of Čapljina is highlighted as the best investment location in Herzegovina - an eco-friendly urban city with amazing nature beauties and rare endemic species, with many locations to visit and superb gastronomy. No other city in Bosnia and Herzegovina has such a remarkable location and traffic communication as a prerequisite for the development of tourism and other industries. Combined with investment zones, streamlined procedures, reduced operating costs and quality workforce, it has the best predisposition to successfully attract investors.
According to Dijana Bošnjak, president of Center for Investments and Entrepreneurship Development (CIRP), a unique "one stop-shop" for investors in Herzegovina, it's the result of political change, coupled with a structured, sustained campaign by the mayor Smiljan Vidić to open Čapljina to the world, and take it from beautiful, but mostly unknown, South European backwater to a global investment hotspot.